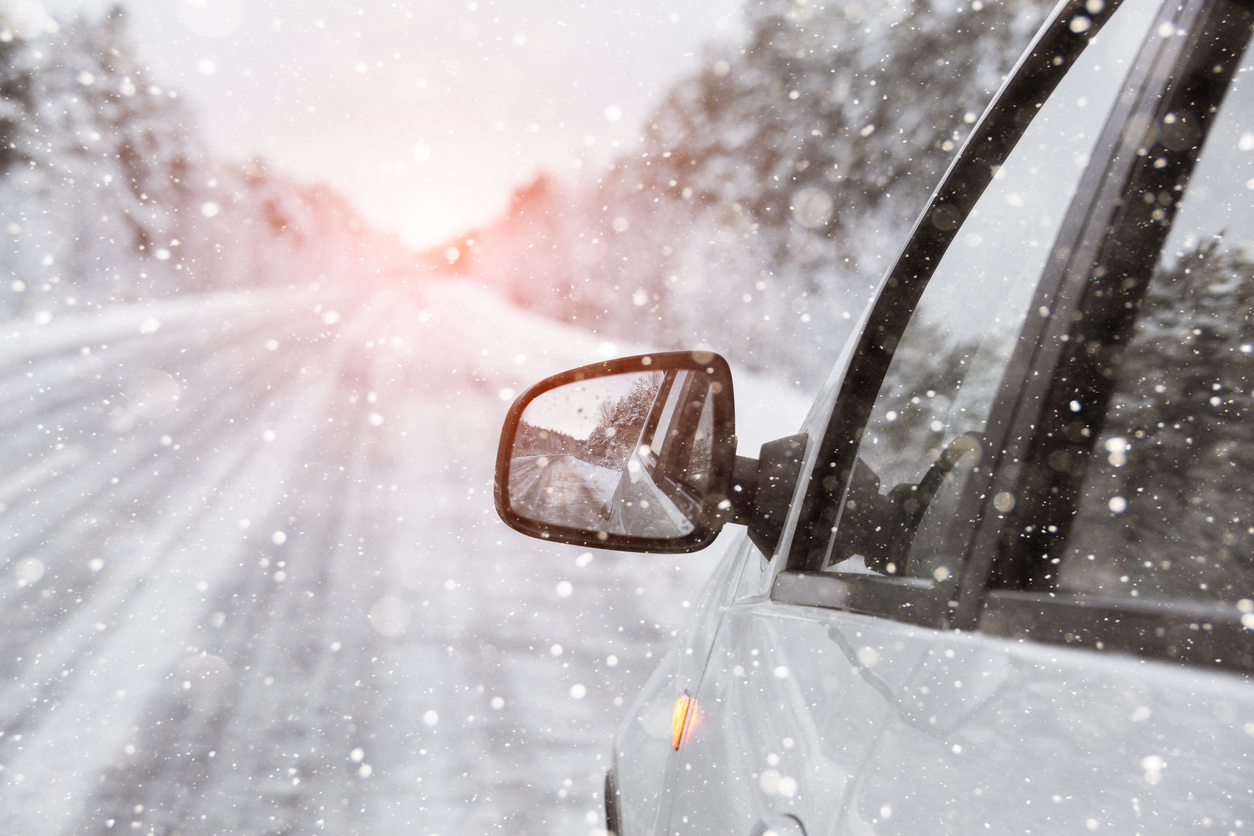 When winter weather strikes, you'll need to be prepared. Keep these winter driving essentials in your vehicle this season to make braving the weather much easier.

Ice Scraper And Snow Brush
Perhaps the most essential winter tool you'll want to keep in your car this winter. Be sure to buy a sturdy scraper/brush combo that won't break after just one season.
De-Icing Spray
This near-magic solution is sold at most hardware stores and is a low-cost, easy way to speed up clearing your car off in the mornings. It will melt the frost, snow, and ice off your windshield quickly and get you on the road in no time.
Warm Clothing And A Blanket
Keeping extra gloves, a sweater, warm socks, and a blanket in your vehicle will come in handy if you get into a crash or get stranded due to the weather. Plus, the gloves will help keep your hands warm when you're clearing off your car in the mornings.
Rock Salt, Sand, Or Kitty Litter
You'll want to have something to give you some traction should you fall prey to snow or ice. Any of these options will do just fine and should speed up the process of getting back on the road.
Snacks And Water
Getting stuck in traffic due to a winter weather accident – or being in an accident – can take a long time to resolve. Ward off hunger and dehydration by keeping a few nonperishable snacks and bottles of water in your car.
Half-Full Gas Tank
Keeping a full fuel tank will aid in weighing down your vehicle in winter driving conditions, and will keep you out of trouble if you hit traffic due to an accident.
You might also like: Car Parts To Check As The Seasons Change
Essentials
A few essentials you should have in all seasons are:
Sunglasses – they help with glare coming off the snow in the winter, and sun in every other season.
First Aid Kit – you never know when you'll need a couple of bandages or antiseptic. It's better to be safe than sorry.
Jumper Cables – a dead battery is a hassle, but it can be resolved quicker if you carry your own jumper cables. Dead batteries can happen during nay season.
Cell Phone Charger – Whether you just need to top up to keep your entertainment streaming or stay charged in an emergency, having a phone charger in your car is a must at all times.