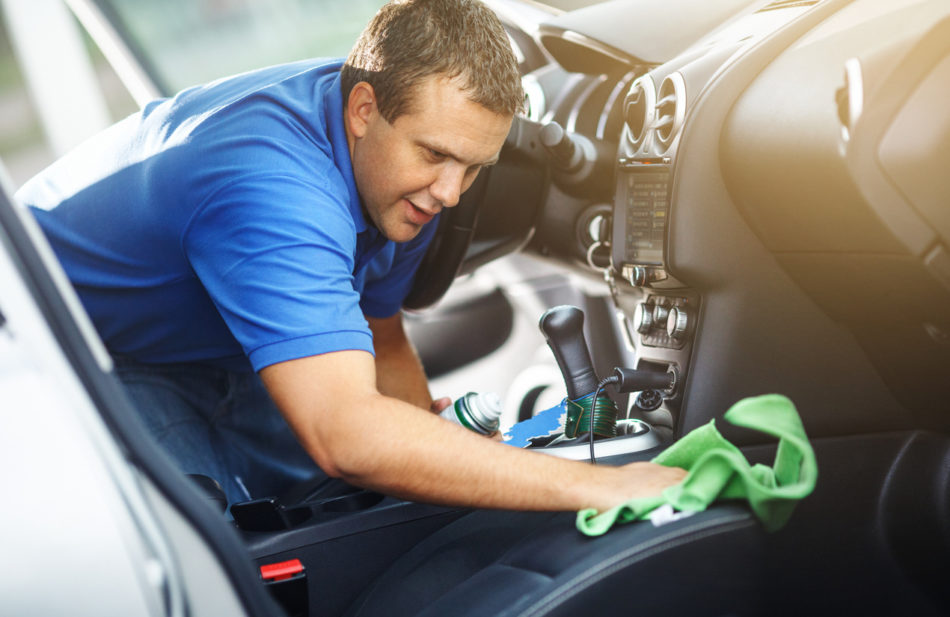 You don't have to pay someone to detail your car. Instead, you can pick up some essential detailing supplies and do it yourself. Then, your car will look great, and it will retain its value, meaning you'll get more money when you sell or trade it. Find out what DIY car detailing supplies you need, so you can keep your vehicle in tip-top shape.

Meguiar's Gold Class Car Wash
You need a car soap to remove dirt and grime from the paint without harming the wax coating. You'll get just that and more with Meguiar's Gold Class Car Wash. It easily handles dirt and grime, including bird droppings, and it's gentle on paint.
Relentless Drive Ultimate Car Wash Mitt
The Relentless Drive Ultimate Car Wash Mitt also does a fantastic job on dirt and grime without harming the paint. It absorbs the suds from the car soap and wipes away excess dirt and grime. In addition, the highly absorbent mitt fits into tight spaces, so your entire car will sparkle and shine when you use it.
Meguiar's Water Magnet Drying Towel
The Meguiar's Water Magnet Drying Towel is the right choice for drying your car after washing it. It will absorb the water, but you won't have to worry about it damaging the paint. It's also foldable, so it can get into tight spaces.
Sprayway Glass Cleaner
Your windshield and windows will look crystal clear after you use the Sprayway Glass Cleaner. It doesn't leave streaks behind, so it'll look like your car just came from the dealership.
Stoner Car Care Tarminator
Does your car have a buildup of bugs and tar? If so, you can fight back with the Stoner Car Care Tarminator. This degreaser is so powerful that even the pros use it. While you don't want to use it on bumpers, it'll do a great job on the rest of your car.
Eagle One A2Z All Wheel and Tire Cleaner
Dirt and grease can't stand up to the Eagle One A2Z All Wheel and Tire Cleaner. You'll actually see dirt and grease run off the wheels after spraying this cleaner. Still, it's a good idea to use a brush or a cloth to scrub or wipe the wheels after spraying to get the remnants.
Nu Finish Car Polish (Liquid)
You can keep your car's paint looking its best with Nu Finish Car Polish. This is much easier to use than most protectants, and it's also affordable. Most importantly, it does an excellent job of keeping your paint looking fresh and new.
You might also like: Test Drive A Used Vehicle Like A Pro
Meguiar's 3-in-1 Wax
If your paint has light scratches and other minor defects, Meguiar's 3-in-1 Wax can help. It will brighten up your paint and smooth out the imperfections.
These supplies will help you keep your car clean. However, if your vehicle has seen better days, it might be time for an upgrade. Barbour-Hendrick Honda Greenville in Greenville, North Carolina, has a full lineup of new Hondas, including Pilots, Accords, and Civics. We also have an extensive pre-owned inventory. Stop by to get your new car, and then use these detailing supplies to keep it looking new for years to come.