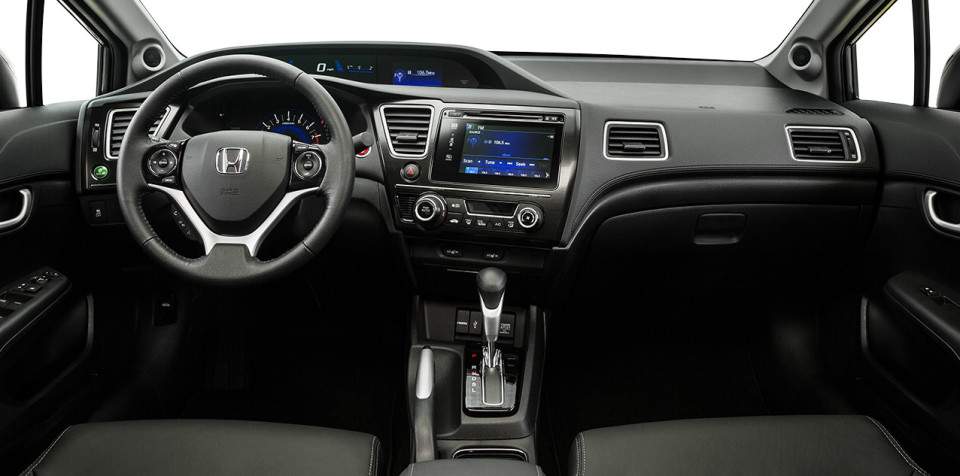 We know what you're thinking. Why should I buy a Civic? Let us at Barbour Hendrick Honda tell you why. As one of the top selling Honda models, there are a number of reasons to buy the 2015 Honda Civic Sedan, including:

Civic Technological Advancements

Honda keeps its 2015 Civic design abreast with the modern technology, offering its consumers specs like Bluetooth, Pandora connection and smartphone compatibility for text messaging.

Civic Makes Driving Safer

The smartphone technology gives you the option of activating voice to read your text messages aloud. With an average of one in four car accidents being caused due to cellphone usage (National Safety Council, 2014), this option can prove to be extremely useful in preventing accidents.

Civic Improves Visibility

Even the most skilled drivers can feel challenged by blind spots. This year's 2015 Honda Civic Sedan features a special camera for blind spots that utilizes Honda's LaneWatch technology. Additionally, a rearview camera provides a view at multiple angles to facilitate drivers while they are backing their cars.

Reasonably Civic Pricing

With the features it packs along with the smooth drive, this sedan design by Honda is among the most affordable cars of its category. The price range of 2015's sedan Honda Civic starts with a modest $18,490 and go up to $24,340, making it an economical choice for a new car.

Civic Transmission Options

LX, which is the most basic version of the 2015 Honda Civic, comes with a manual transmission with the option to switch to continuous variable transmission (CVT). All the other Civic types contain CVT. In this way, people can opt for the transmission type they are most comfortable with, and that best fits in their budget.

Smooth Civic Speed Transition

Honda brought in CVT in order to replace the outdated five-speed gear system. This means that drivers no longer have to keep shuffling gears while driving, leading to a much smoother and jerk-free car ride.

Civic Fuel Efficiency

After earning rave reviews for introducing CVT in the 2014 Civic, Honda wisely maintains the feature in the 2015 model as well. The inclusion of CVT accounts for better fuel efficiency, the numbers of which are estimated to be:

– LX Manual: 28 City and 36 Highway*
– LX CVT: 30 City and 39 Highway*
– SE CVT: 30 City and 39 Highway*
– HF CVT: 31 City and 41 Highway*
– EX CVT: 30 City and 39 Highway*
– EX-L CVT: 30 City and 39 Highway*

Improved Civic Infotainment System

Another place where the 2015 Honda Civic scores major points is the much enhanced infotainment system. The 7-inch wide audio display is marked by a new touch screen feature. By integrating smartphones, passengers can easily log on to the Internet while driving and add variety to their music list by syncing to Pandora.

Civic Regulated Temperature

Remember the days when the driver would be scrambling with the air conditioning just to get the perfect temperature inside the car? The new Honda Civic will make everyone forget those days ever existed. All passengers need to do is to set their preferred temperature and the car's climate control will adjust itself accordingly.

The Civic Sport mode

For the lovers of high velocity drives, all automatic models of 2015 Civic feature the Sport mode. As can be guessed by its name, the Sport option allows drivers maintain higher revolutions and go full throttle with their acceleration. This leads the car to respond even to the slightest of movements by the drivers, helping them driver with greater ease.
Get into Barbour Hendrick Honda and get your 2015 Honda Civic today!
*Based on EPA mileage ratings. Use for comparison purposes only. Your mileage will vary depending on how you drive and maintain your vehicle, driving conditions and other factors.