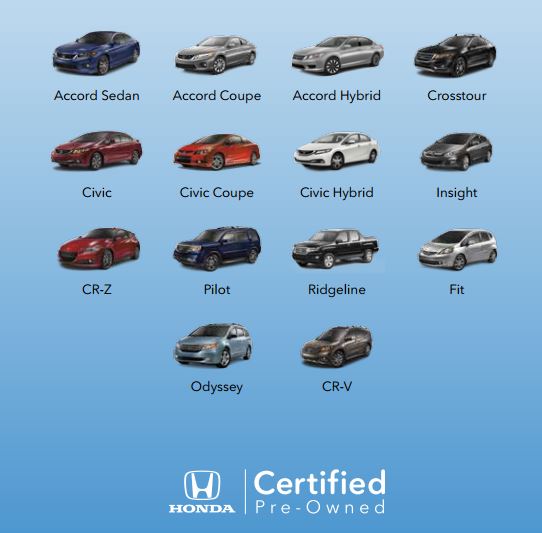 There is something really special about being a Honda Owner. Each year Honda engineers design vehicles in numerous categories that are specifically designed to make your life easier. The vehicles are then expertly manufactured to ensure that each car that drives off a Honda lot meets the highest Honda standards. You don't have to buy a brand new Honda to take advantage of their expertly designed and manufactured vehicles. With a Honda Certified Pre-owned vehicle you can get the perks that come with driving a Honda, along with a great cost savings!

Honda Certified Pre-owned Program – A Cut Above the Competition
Hondas are designed and manufactured to outlast the competition from their very first mile on the road. To be accepted into the Honda Certified Pre-owned vehicle program, the Honda must meet the most stringent inspection and qualifications and then the vehicle is backed by a lengthy comprehensive warranty*. Not only can you rest assured that you are getting an expertly maintained vehicle, but you can have the peace of mind that your Honda warranty will have you protected after you purchase your vehicle.
Honda Certified Pre-owned 182-Point Inspection
While many car makers have their own certified pre-owned program, Honda's has award winning value and reliability. This all starts with the 182-point inspection that the vehicle is put through before being listed as a Honda Certified Pre-Owned vehicle. Only Hondas that were produced in the last 6 years and have under 80,000 miles on them are even considered to be reviewed for the program. Hondas that meet these requirements then go under a stringent review process where their vehicle history reports are reviewed and they are put through a comprehensive multi-point inspection. During this inspection the inside and out of the Honda is checked, including key components including: brakes, engine, exhaust system, drivetrain, steering and suspension, tires and wheels and the body condition and paint of the Honda.
When you buy a Honda Certified Pre-Owned vehicle you know that it has been inspected from end to end by a Honda Certified Technician. You can drive off the dealership lot with in a great vehicle, and the peace of mind that comes with buying a Honda Certified Pre-Owned vehicle!
Barbour-Hendrick Honda in Greenville has a great selection of Certified Pre-owned Honda's for you to choose from, stop by today and their knowledgeable staff can help you find your next Honda!
*Please see your dealer for warranty details.