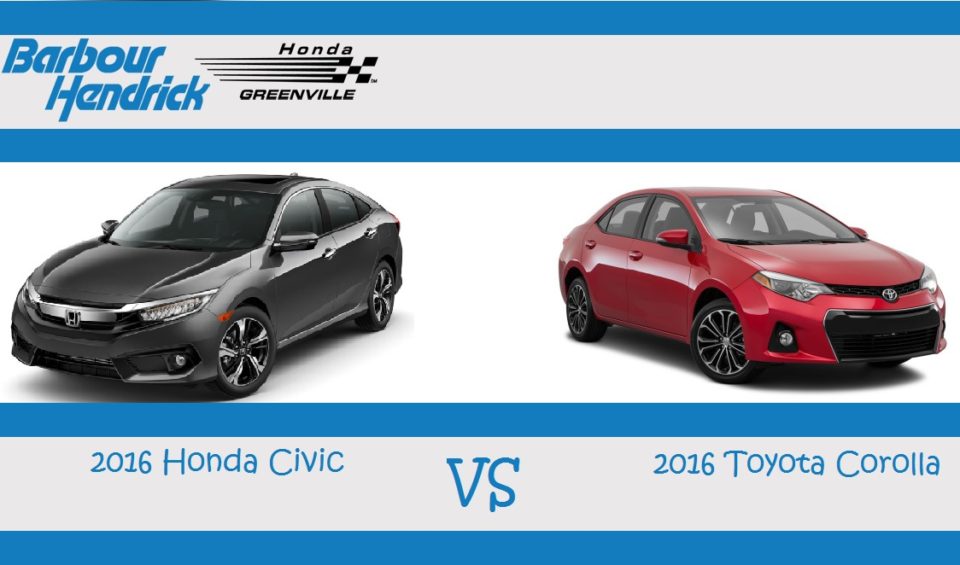 The 2016 Honda Civic Sedan is like no other when compared to other vehicles in its class. This remains true when looking at it next to the 2016 Toyota Corolla. First is the technology, safety, and comfort. There are features in Honda civic sedan that will make you sell that Toyota Corolla today for the sedan.

Comfort, Safety, and Convenience of the Honda Civic Sedan
The Honda has some multi-angle rearview mirrors designed to give proper guidelines on the direction. This promotes safety while driving and comfort; with the rear view mirror you can watch your surroundings at a 3 angle dimension. Proper security is also prompted by the lane departure warning and front collision warning. Every time you unconsciously divert from your lane the Honda immediately detects and gets you back to your lane. Apparently it can also detect some collision with two front cars before even the driver notices and accelerates speed reduction. Automatic control and cruise control is not at all a major feature in the Toyota Corolla.
2016 Honda Civic Size and Performance
The alloy wheel accessories of the Honda Civic Sedan make it a great drive in different highways and roads. The cargo size is also larger in comparison with the Toyota Corolla. Also, the Honda Civic always has an automatic controller for every 24 hours. Every technology including the large screen display is meant to help the driver regain control while driving. The screen also promotes entertainment for both the driver and the passengers. The Honda Civic Sedan compatibility to safety, parking brakes, and highway economics is quality and highly valued.
The features of Honda sedan by far differ with the Toyota Corolla but in a good way. The engine performance especially is the great and the constant protection and control of the model more than the driver is also a very unique and distinct feature. It definitely is a good priority in comparison with the Toyota corolla.
Still not sure why you should choose the 2016 Honda Civic Sedan over the Toyota Corolla? Visit Barbour Hendrick Honda in Greenville  or call to schedule a test drive today. Once you are behind the wheel of the Honda Civic Sedan, you will see why the 2016 Honda Civic by far beats the Toyota Corolla in the Compact Sedan Battle Royale!